Thanks to a friend I've been introduced to the world of Nero Wolfe by Rex Stout. I was given two Nero Wolfe books, and so far I've read And Four To Go. I am so glad that I found this wonderful character. And a character Nero Wolfe is.
He's big (one-seventh of a ton as we are frequently reminded); he's secretive about how he solves cases; he's OCD about so many things. I really like his assistant, Archie Goodwin. The stories are written in the first person in Archie's voice which I love. He's funny and cheeky.
I enjoy a good mystery which these are. They're great for if you want to read but not have to think. I'm certainly going to be looking for more of these books when I visit used-book stores.
17-year-old daughter – Night Watch by Jack Cavanaugh. Cavanaugh is her favourite author, and she says I really, really need to read this one – a Christian thriller. People all over the world are getting messages that they will be dead within hours, and it always happens. What is behind this?
15-year-old son – Shane by Jack Schaefer. A western that my oldest daughter recently discovered and is getting everyone in the house to read so it must be good. My oldest son agrees with her.
13-year-old son – Monster by Frank Peretti. Something is out there killing people. Can they find out what it is before someone else becomes a victim? This is a great read for fans of Peretti.
11-year-old daughter – Edith Head's Hollywood by Paddy Calistro and Edith Head. My daughter is very interested in the dresses of the movies from the '40's and '50's so this was a perfect gift for her.
10-year-old daughter – All-of-a-Kind Family Uptown by Sydney Taylor. This is a delightful series that follows the life of a Jewish family living in New York in the early 1900's. She is devouring this series of five books.
8-year-old son – Ted's Shed by Cox Roxbee. Usborne has a set of books that are excellent for beginning readers. As my son's dyslexia comes ever closer to being cured he can read more and more of each book on his own. Last year we struggled to get through these books. Now he's reading at least 80% of the words on his own. The stories are fun with simple phonics and some rhyming words.
4-year-old son – One Morning in Maine by Robert McCloskey. This is an old family favourite with a fun story about a lost tooth and beautiful pictures.
3-year-old son – Why Do I Cry? by Edith Witmer. This is a "Little Jewel" book by Rod and Staff. It's a great book that talks about all the reasons a little one might be crying, and what they can do to be happy.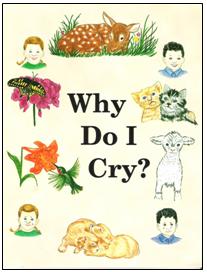 I haven't done one of these posts in a long time. It feels good to share again our suggestions for good reading. What would you recommend to us?
Jennifer is the happily married wife of a pastor and the somewhat-tired-but-oh-so happy mum to eight beautiful children. She loves to try new healthy recipes, sew, read to her children, garden and play the piano.
Latest posts by Jennifer Schonhaar (see all)
(Visited 75 times, 1 visits today)