This is a subject dear to my heart because so many people in my family love to write and are good at it – my husband, oldest daughter, oldest son, dad.
In some ways we have more ways to write now and yet paradoxically less communication happening.
As I read this chapter I thought about all writing online that is done these days, but is there any real communication? Communication being defined as a giving and receiving of thoughts and ideas.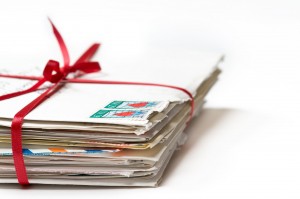 We all used to write so many letters. I still have a large handful of letters from a very old friend whose wisdom I highly valued. She's dead now, but I still like to get out my letters and read through them. If the only "letters" we send and receive now are on social media what's going to happen to them? Will we still be able to read them in 20 years? I have my doubts.
This chapter really inspired me to start writing letters again and not just to rely on social media to communicate with friends and family.
I loved this idea…
If communication in writing comes more easily to you than speaking does, then explain yourself in a note that you put under someone's plate at breakfast. If there has been a misunderstanding and you want to make "I'm sorry" into something a little more full and explicit, then write it in prose or poetry and pin it to the bathroom mirror, or clip it to the page of the favourite magazine that is being read. If you have an important letter it can go under the pillow to be read at bedtime when it is found just as the person is climbing in, before the light goes out.
I have quite often found it easier to express my emotions to those I love with words rather than speech.
There are also diaries and journals. My mom has a diary kept by her grandmother! What a treasure that is with little peeks into what she thought of her new granddaughter (my mom). Today you can find books that give you writing prompts for recording memories and family history – something your children will surely treasure. I have a book like that that I am slowly filling in.
A spiritual journal can be a great record of your growing relationship with the Lord. Prayers, praises, sorrows, triumphs can all be recorded, favourite verses, answered prayers.
…God has communicated with us in writing. His Word, the Bible, is just this. It is what He would have us know, set down in written form. So writing our please, our praise, our prayers – this is not a one-sided communication. God has spoken. God is speaking. God will speak. God will hear, and He will answer.
What is your favourite way of using this "Hidden Art"?
Jennifer is the happily married wife of a pastor and the somewhat-tired-but-oh-so happy mum to eight beautiful children. She loves to try new healthy recipes, sew, read to her children, garden and play the piano.
Latest posts by Jennifer Schonhaar (see all)
(Visited 53 times, 1 visits today)