As per the norm, I actually have several different books that I am in the middle of: a true spy story, a mystery, a survival story and this one Mr. Darcy's Little Sister by C. Allyn Pierson. I love Jane Austen's books – all of them. I also enjoy reading books that people have written that are prequels, sequels, re-tellings, etc. of Jane Austen's books. Some are really good (Amanda Grange's "Diary" series). Some are so-so, and some I wish I'd never bothered with (thankfully not many of those).
Mr. Darcy's Little Sister is one of the good ones. If you love Jane Austen, you will enjoy this story about Georgiana. It kind of takes up where Pride and Prejudice ends as far as a time line goes. It starts just after Darcy and Elizabeth have become engaged, and Georgiana is looking forward to having a sister but also someday having a husband herself.
19-year-old daughter – The Outsiders by S.E. Hinton. You can read her review of this book here.
13-year-old daughter – Esther: A Royal Beauty by Angela Hunt. She felt like this gave her some new things to think about in regards to the book of Esther.
12-year-old daughter – Cinnabar, the One-O'Clock Fox by Marguerite Henry. This story is actually puts a fox up against George Washington himself told from the fox's point of view.
9-year-old son – Doughnut Day by Ruth Ann Rudolph. Micah's reading this to me little by little. It's not really a long book, but for someone with dyslexia it's taking us a while. It's making me want to make doughnuts!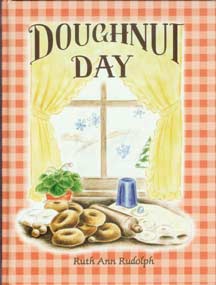 6-year-old son – Saving Thunder the Great: The True Story of a Gerbil's Rescue from the Fort McMurray Wildfire by Leanne Shirtliffe. I knew when I saw this book that I wanted it for Ethan. This is a true story about one family's experiences in a wildfire that happened less than two years and three hundred miles from where we live now. We have enjoyed reading this book together.
5-year-old son – Finding Winnie: The True Story of the World's Most Famous Bear by Lindsay Mattick. We quite often tease Jonah that he is a makeover of Winnie-the-Pooh, and his sisters have bought him several different Winnie-the-Pooh stuffies including one as big as himself. So when I saw this book I knew he had to have it. I won't spoil the ending, but there is something very special about the author of this book.
Now it's your turn. Do you have a book to recommend to us?
Jennifer is the happily married wife of a pastor and the somewhat-tired-but-oh-so happy mum to eight beautiful children. She loves to try new healthy recipes, sew, read to her children, garden and play the piano.
Latest posts by Jennifer Schonhaar (see all)
(Visited 60 times, 1 visits today)